'Seinfeld' Profile: George Steinbrenner
Play Sound
Yankees owner George Steinbrenner was caricatured in Seinfeld, when George Costanza worked with the Yankees for several seasons. Larry David voiced the character, who talked nonstop, regardless of whether anyone was listening, and sometimes referred to himself as "Big Stein." His face was never seen, but the back of Steinbrenner was the back of Lee Bear. The real George Steinbrenner died of a heart attack on July 13, 2010.
Story
George Steinbrenner was first shown when George was being interviewed by Wilhelm, and Steinbrenner was walking by. When George Costanza was being introduced, he started yelling at Steinbrenner for his bad decisions over the years. When George stops, Steinbrenner has only one thing to say: "Hire this man." George Steinbrenner was always viewed from the back whenever Costanza or anybody entered his office at Yankee Stadium, but when outside of his office, the side of Steinbrenner's face could be seen. Mr. Wilhelm answered to Steinbrenner and George answered to Wilhelm, but George would take direct orders from Steinbrenner.
The Seinfeld Steinbrenner was known for bad decisions, such as cooking jerseys, threatening to move the team to New Jersey "just to upset people", wearing Lou Gehrig's uniform pants (and panicking about his nerve problems in the leg) and trading several players much to Frank Costanza's dismay.
In one episode, "The Wink", Steinbrenner mentions all of the people he fired, with him saying Billy Martin four times. He also mentions then-manager Buck Showalter, then quickly clams up about it. Though the show meant it as a joke, it turned out to be prophetic: just weeks after the episode aired, the real George Steinbrenner did not bring back Showalter as Yankees manager and replaced him with Joe Torre.
In "The Muffin Tops," George Steinbrenner thought that George was moonlighting at Tyler Chicken. He later calls up Johnny Tyler to trade George in exchange for Yankee Stadium to have all it's food replaced with chicken. George Steinbrenner even asked Johnny Tyler how they did alcoholic chicken.
In "The Finale, Part 2," George Steinbrenner was among those who headed to Latham County to attend the trial of Jerry Seinfeld, Elaine Benes, George Costanza, and Cosmo Kramer. George Steinbrenner mentioned to District Attorney Hoyt about George's employment at the trial. He also voiced his suspicion of George being a Communist. Frank Costanza shouts to Steinbrenner "How could you give $12 million to Hideki Irabu?" Judge Arthur Vandelay had to break up the argument. While the jury was out deciding on the verdict, Steinbrenner can be seen eating with Mr. Wilheim at a restaurant and where Mr. Wilheim appears calm him down when he is arguing with the waiter.
The Real Appearance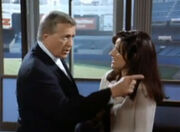 The real George Steinbrenner had filmed a scene for the Seinfeld season 7 finale, "The Invitations", but demanded to be edited out after finding out that George's fiancée, Susan Ross, would be killed off during the episode. Nevertheless, he maintains that he is a fan of the show and that "Costanza is always welcome back." As shown above, there are pictures that exist of George Steinbrenner's appearance.
Appearances
This is an incomplete list of episodes in which The Big Stein appears.
Season 5
Season 6
Season 7
Season 8
Season 9