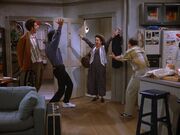 Jerry's apartment (129 West 81st Street, Apartment 5A) is where Jerry Seinfeld lives and is located in New York City. His apartment is usually a meeting ground for him and his friends George Costanza and Elaine Benes. His next-door neighbor, Cosmo Kramer, also visits whenever he feels like it. This is one of the two main hubs, the other being Monk's Cafe. Early episodes also show Apartment 411. 129 West 81st Street is a block away from the famous Beresford Art Deco building in which Seinfeld purchased a duplex as one of his homes in real life.
Before Seinfeld was produced he lived several blocks west of Central Park on 81st Street which is the basis for the fictional apartment.
See also Jerry's Apartment's Lobby and Jerry's Apartment's Elevator.
Areas
Kitchen - There is a kitchen in the apartment with a counter that wraps around. It is open to the rest of the living room. An entire episode was devoted to remodeling the kitchen where the carpenter could not make any decisions and ended up putting cabinets above the counter that drop down so low that the talent could not communicate from one side of the kitchen to the other and finally Jerry instructed the carpenter to put the kitchen back as it was. The main catchphrase was from Elaine stating, "Jerry, I really don't like this. It has got to go." The refrigerator was used as a common breakup line where one of the characters would open the refrigerator and offer someone a soft drink. Kramer used the sink for many sources of amusement including running a hose to his apartment when he decided that he was going to live in his shower. He used the hose for cleaning the vegetables in his shower.
Living room - The living room has couches and a TV. The apartment door opens directly to the living room.
Dining area - There is a small dining area behind the couch.
Alcove - By the window, there is an alcove that Jerry uses as an office. He keeps his computer, desk, and bookshelf there. The answering machine and the phone were the most important items in the Alcove.
Bathroom - Behind the dining area is Jerry's bathroom.
Bedroom - Turning left before the bathroom is Jerry's bedroom.
Changes
Jerry's apartment underwent many changes throughout the series.
Notes About Nothing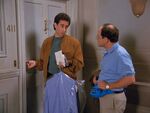 The apartment number has been accidentally changed in some episodes. In "Male Unbonding", the apartment was #411.
In "The Phone Message", Jerry lived in Apartment 3A.
Community content is available under
CC-BY-SA
unless otherwise noted.