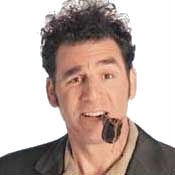 Kramerica Industries is Kramer's fictional corporation. It has been the umbrella company for efforts such as a "make your own pie" pizza restaurant and an oil bladder system.
Although not officially credited as a "Kramerica Industries" venture, it is thought that Kramer's roll-out tie dispenser idea from "The Stock Tip" is a Kramerica-backed idea.
Other Kramerica Ventures
Ketchup & Mustard in the same bottle.
A restaurant that only serves peanut butter & jelly sandwiches, PB&J'S.
A periscope for your car, so you can see the traffic, although this is only in Jerry's imagination of the future Kramer. ("The Invitations")
Calvin Klein cologne: The Beach ("The Pez Dispenser")
Coffee table book about coffee tables ("The Cigar Store Indian")
Appearances
Community content is available under
CC-BY-SA
unless otherwise noted.