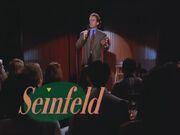 Season 7 of Seinfeld was originally broadcast from the fall of 1995 to the spring of 1996. The main plot of the season was George Costanza and Susan Ross's relationship. The season ran for 22 episodes and was the last season with Larry David.
Like Season 4, the episodes in Season 7 are loosely connected in a season-long story arc.
Episodes
#
Title
Directed By
Written By
Air Date
111
"The Engagement"
Andy Ackerman
Larry David
September 21, 1995
Elaine has a problem sleeping in her new apartment because of a nearby constantly barking dog. Kramer, Newman and Elaine commit a dognapping and take the dog far out of the city. George gets back with Susan Ross, his former girlfriend from NBC; he asks her to marry him. Jerry breaks up with his girlfriend again.
112
"The Postponement"
Andy Ackerman
Larry David
September 28, 1995
Elaine's dog problem is solved by a neighborly rabbi with a cable show. Kramer's involvement in the dognapping worries him. George decides he wants to postpone the engagement. Kramer and Jerry try to see Plan 9 From Outer Space, Kramer sneaks in gourmet coffee, spills it and his lawyer (Jackie Chiles) says he has a case.
113
"The Maestro"
Andy Ackerman
Larry David
October 6, 1995
George decides that he needs to help a security guard that works at Susan's uncle's store. Elaine dates the conductor of an orchestra who insists everyone calls him "Maestro." Kramer's gets an out of court settlement in his lawsuit nets him free coffee at any location around the world." Jerry asks Poppy about Tuscany and is referred to Poppy's cousin, who makes him an offer he can't refuse.
114
"The Wink"
Andy Ackerman
Tom Gammill & Max Pross
October 12, 1995
Elaine dates the man from her wake-up service. Jerry squirts grapefruit into George's eye at breakfast, and for the rest of the day George is misinterpreted because everyone thinks he is winking at them. Jerry's healthy diet conflicts with his dating of Elaine's cousin. Kramer promises a sick boy that Yankee Paul O'Neill will hit two home runs for him, so he can get back a birthday card that he sold based on George's wink.
115
"The Hot Tub"
Andy Ackerman
Gregg Kavet & Andy Robin
October 26, 1995
George picks up a bad habit from some visiting Astros representatives. During the time of the New York City Marathon, Elaine has an out of country runner as her house guest. The runner had overslept and missed the big race at the last Olympics and Jerry obsesses with ensuring that it doesn't happen again. Kramer installs a hot tub in his apartment.
116
"The Soup Nazi"
Andy Ackerman
Spike Feresten
November 2, 1995
Elaine finds an antique armoire she wants. George makes a mistake while trying to get his soup from the "Soup Nazi." George and Elaine discuss how annoyed they are by Jerry's sweet-talking with his current girlfriend, especially their calling each other "Schmoopie". Elaine makes an ordering error in front of the "Soup Nazi," and is banned for a year. Susan appreciates that George is finally showing his feelings in public.
117
"The Secret Code"
Andy Ackerman
Alec Berg & Jeff Schaffer
November 9, 1995
George refuses to tell his ATM code ("Bosco") to Susan. Elaine dates an amnesiac. Leapin' Larry, wants Jerry to do spots for his store, but he is angered when he thinks Jerry is doing an impression of him when his foot falls asleep. Kramer gets an emergency band scanner and decides to help at the New York Fire Department. Elaine doesn't want to go on a date with her boss, J. Peterman, so she leaves Jerry and George at the restaurant. George's code is needed in a life or death situation.
118
"The Pool Guy"
Andy Ackerman
David Mandel
November 16, 1995
Elaine befriends Susan. Jerry meets his pool guy outside a movie, and then he can't get rid of him. George is worried by Elaine wanting to get to know Susan. Kramer's new phone number is similar to a film information line. When Kramer keeps getting wrong numbers, he begins giving out the information for movie show times a la "Moviefone".
119
"The Sponge"
Andy Ackerman
Peter Mehlman
December 7, 1995
Jerry gets a girl's number on Kramer's AIDS walk list. Elaine must decide whether her current boyfriend is "spongeworthy." George tells Susan the secret of the size of Jerry's jeans. George is "out of the loop." Kramer refuses to "wear an AIDS ribbon."
120
"The Gum"
Andy Ackerman
Tom Gammill & Max Pross
December 14, 1995
Kramer is active in the re-opening of an old movie theater. George's friend Lloyd Braun has a pack of Chinese gum that Kramer insists everyone tries. Elaine accidentally "reveals herself" to Lloyd. Jerry must wear glasses while around Lloyd. George's girlfriend Deena thinks he is showing signs of being on the verge of a breakdown.
121
"The Rye"
Andy Ackerman
Carol Leifer
January 4, 1996
Elaine dates a jazz saxophonist. Jerry tells one of the band members the saxophonist and Elaine are "hot and heavy." Susan's parents meet and have dinner with the Costanzas for the first time. Both families obsess over a loaf of rye bread that wasn't served with the meal, which Frank takes back home. Kramer takes over a friend's horse-drawn carriage for a week and feeds the horse Beef-a-Reeno.
122
"The Caddy"
Andy Ackerman
Gregg Kavet & Andy Robin
January 25, 1996
Kramer befriends a caddy, who helps him to improve his golf game and offer his other advice. When George leaves his car at work, Wilhelm and Steinbrenner thinks he's been working extra hard. Elaine meets Sue Ellen Mischke, an old high school friend who is now an heiress to the Oh Henry! candy bar fortune and a "braless wonder". Kramer and Elaine take her rival to court and only Jerry may stand in the way.
123
"The Seven"
Andy Ackerman
Alec Berg & Jeff Schaffer
February 1, 1996
Elaine strains her neck trying to get a bike down from the wall. In pain she promises the bike to whoever fixes her neck. Kramer saves the day and wants the bike. George is angry when Susan's cousin chooses to name her baby with the name he planned to give his first offspring. Kramer works out an arrangement with Jerry to keep track of what he takes from Jerry's kitchen. Jerry's girlfriend always wears the same dress.
124
"The Cadillac, Part 1"
Andy Ackerman
Larry David & Jerry Seinfeld
February 8, 1996
Jerry surprises his parents by buying them a new Cadillac. Kramer finds out how much money Jerry has. Elaine becomes infatuated with Jerry as a result. The cable company wants to see Kramer and he begins to attempt to get revenge on them. George reconsiders his engagement when one of Elaine's friends tells him that she could have set him up with actress Marisa Tomei. Jack Klompus accuses Morty of embezzling funds to pay for his new Cadillac.
125
"The Cadillac, Part 2"
Andy Ackerman
Larry David & Jerry Seinfeld
February 8, 1996
Kramer continues to mess with the cable guy. George's obsession with Marisa Tomei makes Susan suspicious. Elaine gets George Marisa's phone number and now he needs her for an alibi involving her "boyfriend" Art Vandelay. Morty's ace in the hole, to keep him from impeachment, is the woman from whom Jerry stole the marble rye. Susan thinks George is having an affair with Elaine.
126
"The Shower Head"
Andy Ackerman
Peter Mehlman & Marjorie Gross
February 15, 1996
Kramer and Jerry are not pleased with the new low flow shower heads that the buildings maintenance people have put in for them. Elaine is surprised to find out that she has tested positive for opium. Jerry is frustrated by the fact that his parents aren't moving back to Florida and George is elated because his parents are considering moving to Florida.
127
"The Doll"
Andy Ackerman
Tom Gammill & Max Pross
February 22, 1996
Susan's old roommate gives Jerry a package that she wants him to be careful with. Frank turns George's room into a billiard room and Kramer challenges him to a game of billiards where the space is a bit tight. Jerry is enthusiastic about a new toothbrush. Susan has a doll that looks like George's mother. Elaine tries to replace an autographed picture of "the other guy," for the Maestro that was damaged while they were in Tuscany.
128
"The Friar's Club"
Andy Ackerman
David Mandel
March 7, 1996
George successfully delays his wedding. Jerry goes out with Susan's best friend. Jerry loses a jacket he "borrowed" for dinner at the Friars Club. Kramer tries to duplicate the sleeping patterns of Da Vinci. Peterman hires a deaf employee and Elaine suffers the consequences when she gets loaded with most of his work.
129
"The Wig Master"
Andy Ackerman
Spike Feresten
March 16, 1996
Jerry uses Elaine to prove that a sales clerk is wrong about his looking at an expensive jacket. Elaine is picked up by the clerk after leads her on whith the promise of a big discount. George has an unwanted house guest. George discovers why a parking lot is so cheap, when he finds a used condom in his car. Kramer becomes a "pimp".
130
"The Calzone"
Andy Ackerman
Alec Berg & Jeff Schaffer
April 25, 1996
George gets Steinbrenner hooked on eggplant calzones from a local Italian restaurant. But George gets banned from the restaurant when he's accused of stealing from the tip jar. He then asks Kramer to pick up the calzones, but Kramer gets kicked out when he tries to pay with pennies. George's last resort in getting the calzones is Newman who wants a cut of every delivery. Meanwhile, Kramer will only wear clothing if it's straight from the dryer.
131 & 132
"The Bottle Deposit"
Andy Ackerman
Gregg Kavet & Andy Robin
May 2, 1996
George doesn't hear the details on an important project that Wilhelm wants him to champion. Elaine gets into a bidding war at an auction with Sue Ellen Mischke over a set of golf clubs owned by JFK, the Oh Henry! candy heiress. Consequently, she spends a bit more than she was authorized by Peterman. Kramer collects used pop bottles and cans so he can take them to Michigan where the refund is doubled. Jerry takes his car to a fanatical car care mechanic, Tony, who later steals the car.
133
"The Wait Out"
Andy Ackerman
Peter Mehlman
May 9, 1996
George makes an off-hand remark to a married couple with a rocky relationship, leading to their breakup. Elaine starts driving again and almost makes Jerry sick. Kramer starts wearing jeans that are too tight that he cannot get them off. Elaine and Jerry make plans to move in on the separated couple.
134
"The Invitations"
Andy Ackerman
Larry David
May 16, 1996
George tries to think of a way out of his relationship with Susan, Elaine suggests smoking and Kramer suggests a pre-nuptial agreement. Jerry nearly gets hit by a car but is saved by his female equivalent, Jeannie. Jerry thinks he is in love with Jeannie and proposes to her. Kramer tries to cash in on a bank's offer of $100 if one of their tellers doesn't say hello. Susan passes out while licking envelopes.
Community content is available under
CC-BY-SA
unless otherwise noted.