"The Fire" is the 84th episode of Seinfeld. Its original broadcast date was May 5, 1994 and was the 19th episode of the fifth season. It was written by Larry Charles and was directed by Tom Cherones.
Plot
Jerry Seinfeld is readying some new material for his next comedy show, which will be observed by a reviewer from Entertainment Weekly. Meanwhile, Elaine Benes is trying to impress her bosses at Pendant Publishing so that she can get the promotion that is up for grabs.
Toby
, Elaine's obnoxious co-worker, has been collaborating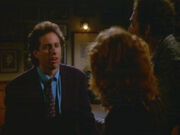 with
Kramer
on his coffee table book about coffee tables. Kramer takes her to check out Jerry's act. Toby's clownish antics and heckling at the show throw off Jerry's rhythm and he bombs. Jerry confronts her about it, but she feels no shame in her actions and tells him to toughen up.
George's girlfriend Robin asks him to hire a clown for her son's birthday party. George hires Eric the clown, whom he ends up giving a hard time during the party for not knowing Bozo the Clown. A fire breaks out during the party and George knocks several party guests down to the ground and bolts out of the apartment. George is confronted by the angry guests and defends his actions the best he can, but Robin breaks up with him.
Jerry, angry about Toby blowing his opportunity to impress the writer from Entertainment Weekly, decides to get revenge on her by heckling her in her office. Toby is so upset at Jerry's teasing that she runs out of the building, where a street sweeper proceeds to sever her pinky toe. Fortunately for Toby, Kramer was just on his way to see her. An ambulance transported Toby to the hospital, but without the detached toe. Kramer spots the toe in the street and bravely commandeers a bus and makes his way to the hospital with it and Toby's toe is saved.
Later Kramer retells the story of saving Toby's toe to Jerry and George. George is so inspired by Kramer's story that he goes back to Robin and begs her to take him back. Robin relucantly does so, mainly because George promises her his days of being a coward are over.
Jerry, who is now seen as a hero by his stand-up comedy pals for his heckling Toby, gets a chance to redo his set for the reviewer from Entertainment Weekly. Unfortunately, he brings George along, who sees a prop comic brandishing a water pistol and mistakes it for a real gun. George goes right back to being a coward and bolts from the comedy club, causing a mass panic in the process and destroying Jerry's second comedy show. Robin witnesses the whole thing and breaks up with George for the second and final time.
Elaine is horrified to learn that Mr. Lippman felt so sorry for Toby's ordeal that he gave her the promotion she had been striving for.
Community content is available under
CC-BY-SA
unless otherwise noted.