"The Robbery" is the third episode of the first season of Seinfeld, it aired as the third overall episode on June 7, 1990. It was written by Matt Goldman and directed by Tom Cherones.
Plot
Jerry goes away to perform some stand-up in Minneapolis, leaving Elaine to look after his apartment. Elaine is having trouble with an annoying flatmate, Tina, who is a "waitress/actress" hoping to get a part, and asks George if he can find her some new accommodation. She then tries to persuade Jerry to give her his apartment, with George offering Jerry a new apartment on West 83rd Street by Central Park which he claims is great, but Jerry turns the offer down. When Jerry returns, he finds the apartment has been burglarized, after Kramer had left the front door open by mistake. As a way of making up, Kramer promises to find the items that were stolen from Jerry.
After the robbery, Elaine still asks Jerry to give her the apartment. Jerry decides to have a look around the new apartment first. The apartment is great and Jerry takes it, allowing Elaine to move into the old apartment. Jerry is about to sign the lease to the apartment, but George tells him that if he has having second thoughts, he should not take it. This results in him thinking that George may want the new apartment for himself. The two have an argument resulting in neither of them wanting to move. They gamble for the apartment and Jerry wins. Meanwhile, Kramer claims that he thinks he knows where Jerry's stolen objects are, and suspects an Englishman along the hallway who denies having any "stuff" on him.
Later in Monk's Cafe, Jerry goes back on the deal and decides not to take the place because George wants it. The two continue to argue about who should own it, and end up deciding that neither of them should take it. A waitress, Carolyn, played by Anita Wise, overhears them and George offers the place to her, which she accepts. The waitress invites them and Elaine to her housewarming, but it is clear that Jerry, George and Elaine are not enjoying themselves. They overhear two people having a conversation about someone else moving out of their apartment, upon which all three ask what the apartment's rent is.
Guest Stars
Anita Wise as Waitress
James F. Dean as Larry
Kimbekley Kates as Diane
Bradford English as Cop
David Blackwood as Man #1
George Simms as Man #2

Stand-up Segments
In the opening stand-up segment, Jerry talks about how arbitrary the idea of giving someone the finger is.
Jerry talks about how police deal with burglaries.
Jerry explains that kids can settle anything by "calling it", and how this simple rule does not apply to adults.
Notes About Nothing
This episode features what later became a Kramer trademark—bursting dramatically into Jerry's apartment. Reportedly, this happened accidentally when Michael Richards missed his cue and ran in late.
The soap opera Kramer was watching while Jerry's TV was being stolen—The Bold and the Beautiful—concerns a Los Angeles family and its fashion empire and has been running since 1987. With over 300 million viewers globally it's one of the world's most watched TV series.
Co-creator of the series Larry David was given a $20,000 bonus by Castle Rock and was promoted to executive producer for his work on the episode.
Carolyn the waitress, played by Anita Wise, and her husband Larry, are named after Seinfeld's own sister and brother-in-law.
This is the first episode not written by the show's creators: Jerry Seinfeld and Larry David.
In addition to his TV, Jerry's stereo and computer are stolen in this episode, though they appear to have been replaced by the next episode.
Locations
Quotes
For this episode's quotes, see The Robbery/Quotes.
Gallery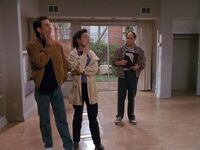 The gallery page for The Robbery can be found here.
Community content is available under
CC-BY-SA
unless otherwise noted.