"The Shower Head" is the 16th episode of the 7th season of Seinfeld and the 126th overall. It premiered on February 15, 1996. It was written by Peter Mehlman and Marjorie Gross and was directed by Andy Ackerman.
Plot
Del Boca Vista and Anti-Semites
After what happened in "The Cadillac", Jerry's parents (Morty and Helen) move in to Uncle Leo's apartment, while Leo moves in with his new girlfriend, Lydia. The Seinfelds plan on moving to a new development called Del Boca Vista. Jerry gets annoyed by his parents calling him regularly because they're making local calls now. He attempts to encourage Uncle Leo to break up with Lydia so that he can get rid of his parents, but the conversation drifts when Uncle Leo calls the cook an Anti-Semite for overcooking his burger.
Jerry prepares for an appearance on the Tonight Show, where Morty and Helen run into George's parents, Frank and Estelle. Frank says he wants to go to Del Boca Vista (George showed him the brochure earlier), but Morty, similar to The Maestro, claims there are no available condos there. Frank sees this as a challenge. On the Tonight Show, Jerry tells Jay Leno about Uncle Leo and how he blames misfortunes on anti-Semitism. Leo and Lydia watch the show: Lydia laughs at Jerry's story, causing Leo to call her an anti-Semite, and breaking up with her.
Leo moves back to his apartment, making Jerry happy, because the Seinfelds have nowhere to stay and have to go back to Florida. However, Morty receives a threatening call from Frank, declaring that he is going to Del Boca Vista. Because of this, Morty and Helen can't go back, and move into Jerry's apartment. Jerry tells Leo to reconcile with Lydia, so that his parents can go back to Leo's apartment. The Costanzas end up not going, because they feared leaving George, leaving the Seinfelds free to leave for Florida.
Opium
Elaine takes a urine test in order to go to Kenya with Peterman. She tested positive for opium. Peterman, who once had a bad experience with Opium himself, won't let Elaine go. Elaine realizes that the opium is coming from the poppy seeds in her favorite poppy seed muffins. She then asks Helen for her urine sample and passes it off as her own. It's been tested negative for Opium, but it also has osteoporosis, once again keeping Elaine from going to Africa.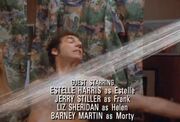 Low-flow shower heads
Jerry's apartment building has new shower heads installed, but they are low-flow. Newman receives a tip for black market Yugoslavian shower heads, so he takes Jerry and Kramer to his client's van. Kramer picks a high pressure shower head used for elephants and regrets it during the credits.
Notes About Nothing
This is the first time Del Boca Vista is mentioned.
The theme of a place having absolutely no homes left to rent is continued from "The Maestro". There it was the whole of Tuscany; here it's Florida housing development Del Boca Vista.
Jay Leno appears in this episode as himself.
There's a nice scene about two thirds through this episode where George's parents break the news that they intend to move to Del Boca Vista, thus away from him, and the reason is to spite the Seinfelds. Frank Costanza starts shouting in his typical manner and George joins right along with him, shouting in playful banter. It's one of the few scenes where George seems genuinely at ease in his parents' company and regardless of the reason it's still quite touching.
Quotes
For this episode's quotes, see The Shower Head/Quotes.