Welcome to WikiSein!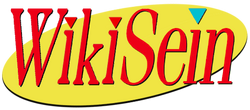 Welcome to WikiSein, the Wiki about Nothing. It is a work in progress for the television series, Seinfeld, and all the media/merchandise that spawned from it. Pages are being added fast, and all contributions are wanted and encouraged.
To write a new WikiSein article, enter the page title in the box below.
Featured Article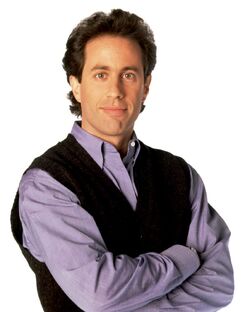 Jerry Seinfeld is the central character of Seinfeld, named after, based on, and played by comedian Jerry Seinfeld.
Jerry's main friends are George Costanza, Cosmo Kramer and his ex-girlfriend Elaine Benes. Jerry (though not without exceptions) typically represents the voice of reason amidst George, Elaine, and Kramer's antics, and can be seen as the focal point of the foursome's relationship. Jerry is somewhat of an eternal optimist, as he rarely runs into major personal problems. Jerry is the only main character on the show to maintain the same career throughout the series. Considering his job as a comedian, he is the most observational character, usually sarcastically commenting on his friends' quirky habits, almost essentially the "New York Jew"-type character. He seems to have a new girlfriend every week, but the relationships usually end for fairly superficial reasons. He is also an almost obsessive compulsive neat freak; he once threw out a belt because it had touched a urinal, and once commented on finding out his toilet brush had been placed in the toilet that, "I can replace that."

Featured Videos
Characters
Twitter
WikiSein Priorities
Adding a summary and interesting information to each episode stub.
Images for every episode and character (try adding more than one).
Pages for characters.
Fix many incomplete character pages.
Add categories to many uncategorized pages.
Other Languages